Try Grubhub+ for free.
Get a Pokémon GO event ticket.
Better luck next time! Unfortunately, this promotion has ended. If you already submitted your email and received a Grubhub+ invite, you have till 10/28 to sign up and claim your ticket. 
Be on the lookout for more exclusive Grubhub+ events coming soon!
Don't miss the first Special Weekend ever in the United States
Catch special Pokémon and more!
Featured Pokémon will be attracted to Incense: Bulbasaur, Charizard, Squirtle, Pikachu, Unown G, Unown H, Sableye, Minccino, Patrat, Ferroseed, and if you're lucky—Shiny Ferroseed!
Timed research task rewards will include Chansey, Mawile, Spoink, Bronzor, Gible, Sewaddle, Incense x3, Star Piece x1, Charizard Mega Energy x100
Trainers will receive an exclusive medal when they redeem their ticket on the Niantic Redemption portal.
The rewards of Grubhub+ membership
Enjoy it on orders of $12+ from select restaurants.
Get free food, first dibs on events and more. 
Donate your change at checkout and we'll match every cent.
Free delivery restaurants will have GH+ by their names. Filter your search for eligible restaurants only.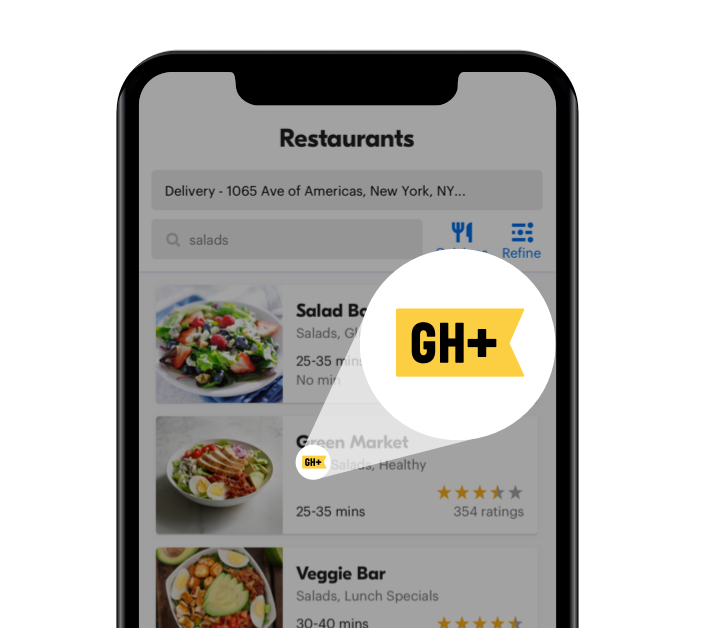 © 2020 Grubhub All rights reserved.
©2016–2020 Niantic, Inc. ©2016–2020 Pokémon.
* Offer expires 10/28/20. Limited supply of offer codes for tickets to the Grubhub Special Weekend in-game event ("Event") available. Limit one (1) Event ticket offer code per Grubhub and Pokémon GO trainer account. To be eligible, users must enter their email address in the designated field at grhb.me/pokemonweekend. Must be a new or existing Grubhub+ member to receive an Event ticket offer code. Users who are not existing Grubhub+ members must sign up for Grubhub+ by following the instructions that will be sent to eligible users at the email address used to sign up for the Event (Grubhub will send instructions to sign up for Grubhub+ within 48 hours). Existing or former Grubhub+ members may not be eligible for a free Grubhub+ trial. Event ticket offer codes will be sent to eligible users via email on or about 11/4/20, and must be redeemed into the Offer Code Redemption site or in the Pokémon GO app prior to the start of the Event. Existing Grubhub+ members will not receive instructions or a confirmation email after applying at grhb.me/pokemonweekend. Tickets for the Event will be sent to eligible users via email on or about 11/4/20. Available in the United States only. Offer codes may not be transferred or returned. Free delivery applicable on orders $12+ (before tax, tip, and fees) from Grubhub+ eligible restaurants only. Additional fees may apply and vary on orders. Free 14 day trial available for 14 days from date trial is initiated. Users may cancel Grubhub+ membership or free Grubhub+ trial during the trial period and still participate in the Event. Grubhub+ is an automatically renewing membership service requiring recurring payments. After your free trial ends, your free trial will convert to a paid Grubhub+ membership and Grubhub will automatically charge you each month at the then-current rate plus tax until you cancel. For a limited time, Grubhub will donate amounts equal to participating Grubhub+ members' donations donated through Grubhub's Donate the Change feature in connection with orders placed at Grubhub+ eligible restaurants only. See Grubhub+ cancellation and refund policy and full terms at https://lp.grubhub.com/legal/plus/. Participation is subject to all applicable laws, rules, regulations, and government guidelines. Grubhub Terms of Use and Privacy Policy apply. Participation in the Event is subject to the Niantic Terms of Service and Privacy Policy. Grubhub reserves the right to cancel, suspend and/or modify any aspect of or the entirety of this offer, for any reason at any time, with or without notice, including, without limitation, if any fraud or technical failure impairs the integrity or proper functioning of the offer.