Get Your $6 Daily Delivery Service Credit From Ford.
Ford is giving a daily $6 Delivery Service Credit to cover fees so you can enjoy a hot meal at work. *
Opt in for your Delivery Service Credit
By clicking "Submit" or by using this site, you agree to Grubhub's terms of use and privacy policy.
It may take up to 48-72 hours to gain access to your Delivery Service Credit.
Please only submit one pre-registration request and do not use multiple emails as this will delay your registration.
Enjoy a $6 Delivery Service Credit from Ford and:
$0 Delivery Fees with Grubhub+
Get $0 delivery fees on orders of +$12 from GH+ restaurants and enjoy exclusive perks and rewards.*
On-time Delivery, Guaranteed
With the Grubhub Guarantee, you get your food delivered on-time and at the lowest price, or we'll make it right.**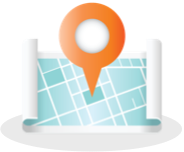 The Most Local Restaurants
Grubhub has the most local picks compared to any other platform, which means you're supporting restaurants in your community with each order.